The future of business interactions with customers undoubtedly belongs to CRMs, with companies today competing based on customer experience optimization. Players like Salesforce, SAP, Oracle, Microsoft Dynamics 365, and Adobe Experience Cloud dominate the global CRM industry, with Salesforce leading the pack.
Get a brief overview of the most popular CRMs
CRM market shares of major CRM providers
Established in an apartment back in 1999, Salesforce is more than just the tallest building in San Francisco. Salesforce is ever-growing, and it is not going anywhere. It is an attractive CRM for clients and a lucrative fount of employment opportunities for job seekers. Our calculations indicate that over a period of 12 months, there are 425,051 jobs posted in the US alone that require Salesforce skills.
Today's world is a digital globe with technological innovations increasingly becoming non-negotiable. There is usually a need for software development whether you are building a website, an app, or undertaking another project altogether. In this regard, there are two types of programming: imperative programming and declarative programming.
Imperative programming

is traditional code-oriented programming, which requires a skilled developer with programming knowledge.

On the other hand, declarative programming produces the same results by telling the computer the end result and letting the computer figure out how to get there. Simply, declarative programming is the kind of point-and-click or drag-and-drop solution that allows someone without coding knowledge to build something.
Salesforce entails both kinds of programming, with a sizeable portion of Salesforce jobs requiring declarative programming skills. By using the web interface and application framework, you can customize existing applications or build processes and applications from scratch without writing any code. These jobs don't require college degrees either. Around 70% of the Salesforce jobs we tracked over a 12-month period did not ask for programming knowledge. Better yet, Salesforce skills ensure that you can earn at least $53,000 even for entry-level non-technical positions.
The quickest and most affordable option of learning these no-code Salesforce skills is enrolling in the CRMBase Salesforce bootcamp. CRMBase trains you through instructor-led classes, hands-on exercises, and projects, with the focus being skills required for jobs. You can choose to be Salesforce Administrators, Business Solution Analysts, or Consultants with our Salesforce Bootcamp. Or you can pursue marketing, sales, and customer service careers in the Salesforce ecosystem. All after 12 weeks of full-time training and mentorship.
We will walk you through the high-paying Salesforce careers that do not need any programming knowledge next. Choose one that matches your interests and start learning.
Salesforce Administrator
Salesforce administrators improve processes, train others, ensure productivity, and create reports and dashboards. With more companies using Salesforce, the demand for Salesforce Administrators has increased. Unlike a developer, you do not need to learn programming and coding but rather declarative development as a Salesforce Admin. This programming method saves time since replicable components, templates, and processes can be created easily, without the need to involve the IT team. The Salesforce Administrator certification can act as your credential even if you do not have any work experience, lowering barriers to entry. The certification not only helps enhance your knowledge of the platform, but research shows it can also improve employability and boost salaries. You can earn an average of $91,000 as a Salesforce Administrator.
Marketing Careers
Marketers promote brands by writing marketing copy, creating multi-channel campaigns, working with creatives, and running promotions. Salesforce Marketing Cloud helps boost these efforts by giving marketers one platform to manage all of this as well as personalize campaigns for each segment of customers, monitoring performance in real time. As a result, there is immense demand for marketers with Salesforce skills, making it a lucrative career. As a Salesforce Marketing rep or manager, you can create and launch email campaigns, engage customers on channels of their choice, develop and execute marketing strategies, collaborate, and create reports — all more effectively. All without coding or involving the IT team. Since most companies use Salesforce, having Salesforce marketing skills increases the chances of you landing a well-paying job. You can earn an average salary of $69,000 as a marketing specialist with Salesforce skills.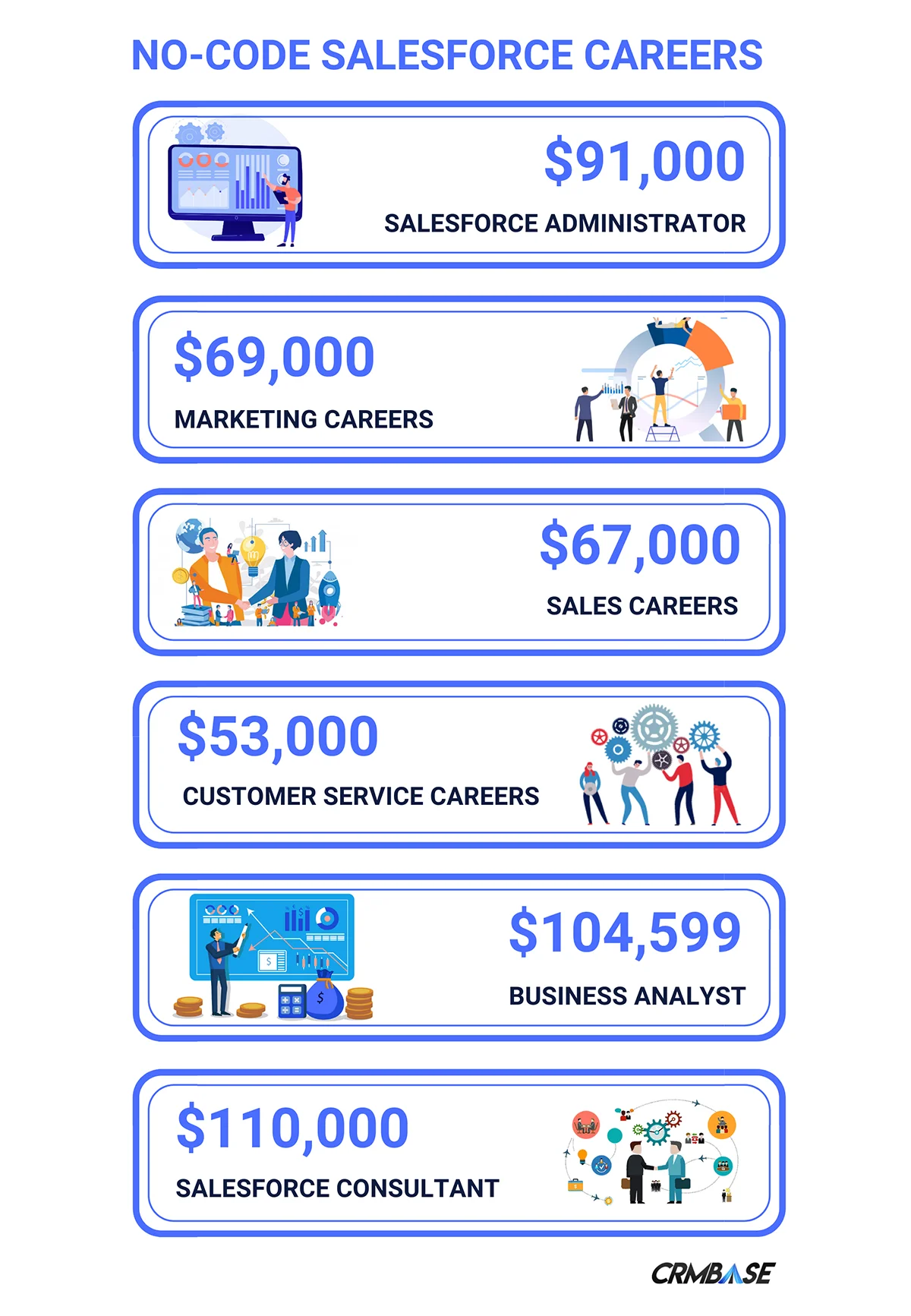 Average annual salaries of Salesforce no-code careers
Sales Careers
Salesforce Sales Cloud has historically been the most popular Salesforce product, used by companies belonging to various industries. Even though it no longer contributes the greatest revenue share to the business, the Sales Cloud witnessed a growth of 12.83% in the fiscal year 2021. Equipping yourself with Salesforce skills will boost your résumé, proving to employers that you can qualify and convert leads, create and employ sales playbooks, and better manage client accounts on the Salesforce platform. In simple words, it will prove your sales skills. Moreover, there has been a 123% annual growth in sales positions requesting Salesforce skills that offer lucrative salary packages. This growth figure speaks for itself, showing how companies value Salesforce skills. Better yet, you can earn an average of $67,000 by pursuing Salesforce careers in Sales.
Service Careers
The most popular Salesforce application in fiscal year 2021 was their Service Cloud. Customer Service professionals who learn how to utilize Salesforce to boost their productivity earn an average of $53,000 per annum, a figure that increases with their experience. Customer Service agents can better manage cases from multiple channels, access complete customer profiles, pull up information from the knowledge base, and collaborate internally with the Salesforce Service Cloud. This translates into better customer success metrics, convincing more and more companies to license this cloud. Consequently, the demand for customer service professionals skilled at Salesforce is also rising.
Salesforce Business Analyst
As a Salesforce Business Analyst, you will work alongside Admins, Solution Architects and Technical Architects to design, develop, and deploy business solutions that enhance productivity, reduce cost, and generate revenue. This role is very much in demand by virtue of its strategic problem-solving focus, commanding an average annual salary of $104,599. As more companies are deploying Salesforce, more business analyst jobs are getting posted.
Salesforce Consultants
Salesforce consulting services support sales, marketing, and customer service needs of companies who can either not afford in-house Salesforce specialists or need outside assistance. Salesforce Consultants help companies by driving implementation of Salesforce solutions as well as spearheading ongoing system improvements on the platform. In the past few years, a 9% annual growth rate has been noted for Salesforce Consultant positions, with 27% of the jobs posted for entry-level roles. As a consultant with Salesforce skills, you can earn around $110,000 per annum.
Salesforce is the world's leading CRM platform, resulting in an increasing demand for professionals with Salesforce skills. Even without learning how to code, you can pursue a promising future by choosing any of the no-code Salesforce careers we have discussed above.
CRMBase allows you to train for all these no-code careers in 12 weeks of intensive practice-based training through our Salesforce Bootcamp. By the end of the bootcamp, you can attempt one or more of 8 certifications and apply for the relevant jobs. If you want something with a shorter time commitment due to professional obligations, choose one of our part-time short courses to specialize in one aspect of Salesforce. As you gain more experience and earn more certifications, your chances of employment and salary will both improve.